16:19, 28 July 2021 | GMT +6
25,000 doses of Kazakhstan's vaccine against COVID-19 'QazVac' delivered to Kyrgyzstan
BISHKEK. KAZINFORM - Today, 25,000 doses of Kazakhstan's QazVac inactivated vaccine were delivered to Kyrgyzstan as humanitarian aid from Kazakhstan, part of wider cooperation between the two countries in tackling the COVID-19 pandemic, Kazinform has learnt from the press service of the Kazakh MFA.
The procedure of its transfer was held in Bishkek with the participation of the Minister of Health of Kyrgyzstan Alymkadyr Beishenaliev, Ambassador of Kazakhstan Rapil Zhoshybayev, and representatives of medical organizations.
Minister Beishenaliev expressed sincere gratitude to the Kazakh side for the valuable support in countering the further spread of coronavirus infection in the country. «We are glad that along with other foreign vaccines like AstraZeneca, Sputnik V and others, Kyrgyz Republic's citizens will be able to get vaccinated against the coronavirus with QazVac», he emphasized. He added that the Kazakh vaccine would be promptly distributed to the vaccination centers and would expand the capabilities of the country's medical system to reduce the risks of viral infection among citizens.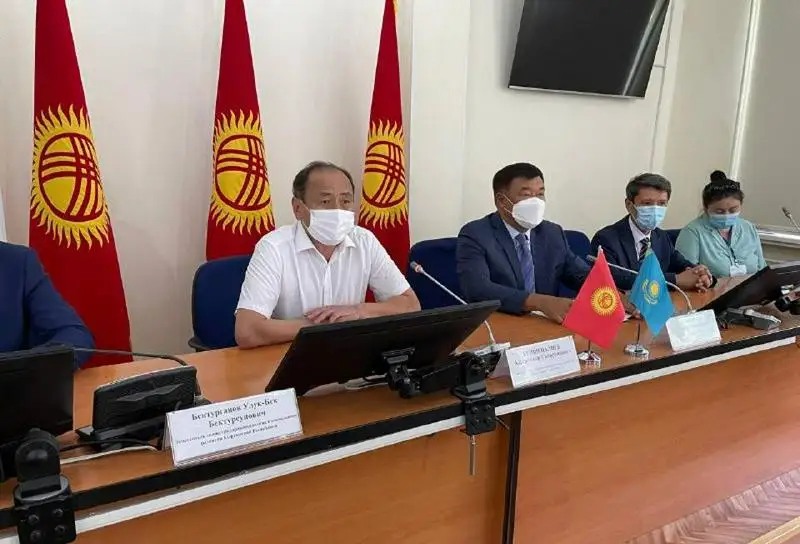 In turn, Rapil Zhoshybaev noted that the delivery of the Kazakh vaccine was organized by the Government of Kazakhstan under the instructions of its President, Kassym-Jomart Tokayev, following his earlier discussions with the President of Kyrgyzstan, Sadyr Zhaparov.
«Kyrgyzstan is the first among our friends and international partners to receive the Kazakh vaccine against coronavirus, which once again demonstrates that the relations between our countries are built on friendship and good-neighborliness», the Ambassador emphasized. He also expressed confidence that humanitarian aid from Kazakhstan will help save many human lives and improve the sanitary and epidemiological situation in Kyrgyzstan.
QazVac was developed by the Scientific Research Institute of Biosafety Problems of the Ministry of Education and Science of Kazakhstan and has been widely used since the beginning of 2021 to vaccinate the Kazakh population, in addition to the vaccines developed by Russian and Chinese specialists. Clinical trials and its widespread use in Kazakhstan have shown the safety of the vaccine and its high efficacy (over 90%) in preventing coronavirus infection and its severe forms. The vaccination by QazVac is recommended for persons 18 years and over, and is administered intramuscularly in two stages, with recommended interval of 21 days. As previously reported, the relevant Kazakh authorities started the process of obtaining WHO approval for QazVac.