19:00, 08 November 2023 | GMT +6
Agricultural cooperation in spotlight at Kazakh-Russian interregional forum this week
On November 9, President of Russia Vladimir Putin will pay an official visit to Kazakhstan at the invitation of President Kassym-Jomart Tokayev. The two leaders are expected to meet one-on-one, discussing the strategic partnership. They will also participate via video conference in the 19th Forum of Interregional Cooperation, which will be held in Kostanay. More about the current state of bilateral ties and what interregional cooperation entails is in the latest article of Kazinform.
Historical context
The two countries established diplomatic relations in October 1992. The same year, the two countries opened embassies.
Over the years, relations between Kazakhstan and Russia have been developing dynamically and cover many areas of cooperation. Bilateral relations and cooperation are regulated by an extensive legal framework. More than 400 treaties and agreements have been signed.
Major Kazakh-Russian documents include Treaty of Friendship, Cooperation and Mutual Assistance as of 1992, and Declaration of Eternal Friendship and Alliance as of 1998.
At the present stage, the basis of the strategic partnership is the Agreement between Kazakhstan and Russia on Good Neighborliness and Alliance in the 21st century, signed in 2013 by the presidents of the two countries.
Russia is one of the biggest trade partners
The trade and investment ties between Kazakhstan and Russia are significant and have deep historical and economic roots. These two neighboring countries share a long-standing partnership that extends across various sectors, making them critical economic allies in the Eurasian region. The two countries share the world's longest continuous land border stretching over 7,591 kilometers.
In 2022, Russia was Kazakhstan's biggest trade partner with $26.97 billion in bilateral trade turnover, according to the Bureau of National Statistics. Next follows China, with $24.2 billion.
The trade has seen a substantial grown from just $15.1 billion in 2015.
Key trade sectors include energy resources, machinery, manufacturing, agriculture, and chemicals. These sectors benefit from the geographic proximity and the absence of customs barriers, due to their participation in regional economic agreements, including the Eurasian Economic Union (EAEU).
According to the Kazakh Ministry of Trade and Integration, trade turnover between Kazakhstan and Russia in January-August 2023 reached $17 billion, which is 1.1 percent higher than in the same period of the previous year.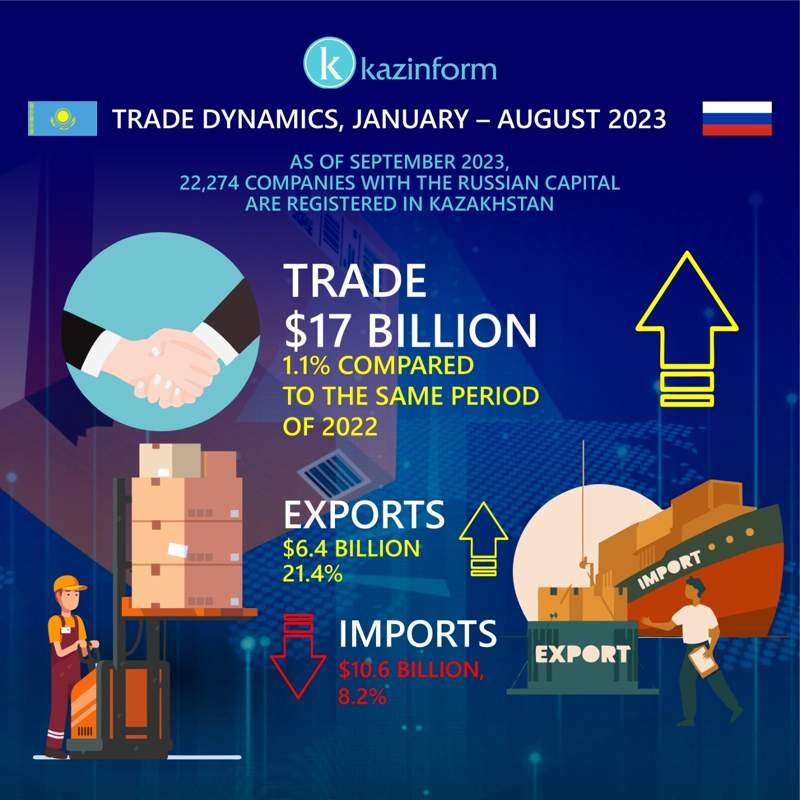 Exports from Kazakhstan to Russia increased by 21.4 percent and amounted to $6.4 billion.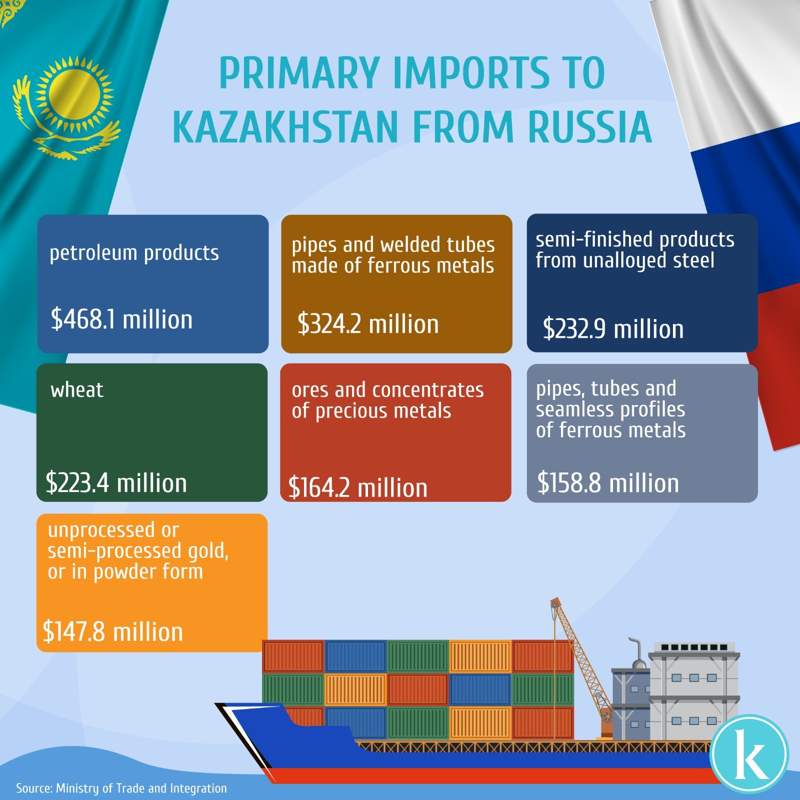 The main export goods from Kazakhstan to Russia include uranium, which accounts for 12 percent in the export structure or $767.3 million, hot-rolled flat products from non-alloy steel - $313.2 million (4.9 percent), ores and iron concentrates - $221.3 million (3.5 percent), flat rolled products from non-alloy clad steel - $212 million (3.3 percent), among other items.
Imports to Kazakhstan from Russia decreased by 8.2 percent and amounted to $10.6 billion.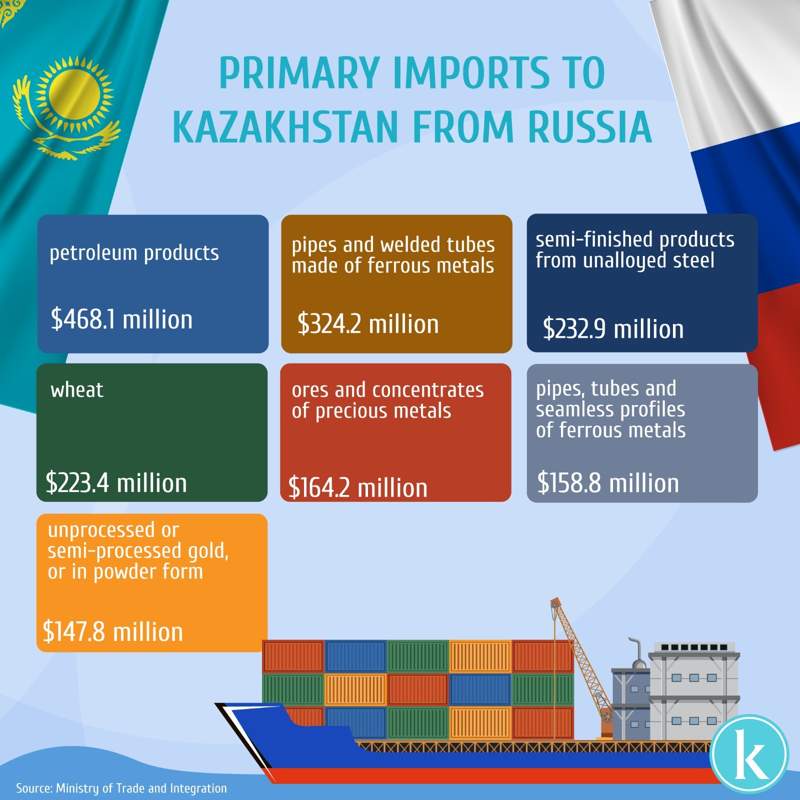 The main goods imported to Kazakhstan from Russia are petroleum products - $468.1 million, accounting for 4.4 percent in the total volume of imports, pipes and welded tubes made of ferrous metals - $324.2 million (3.1 percent), semi-finished products from unalloyed steel - $232.9 million (2.2 percent) and wheat - $223.4 million (2.1 percent), among others.
Russia is also among leading investors in Kazakhstan. Russia's cumulative investments since 2005 exceeded $20 billion, according to the data from the National Bank of Kazakhstan.
In 2022, Russia invested $1.5 billion, which made it the fifth largest investor in Kazakhstan, after the Netherlands ($8.3 billion), the United States ($5.1 billion), Switzerland ($2.8 billion) and Belgium ($1.56 billion).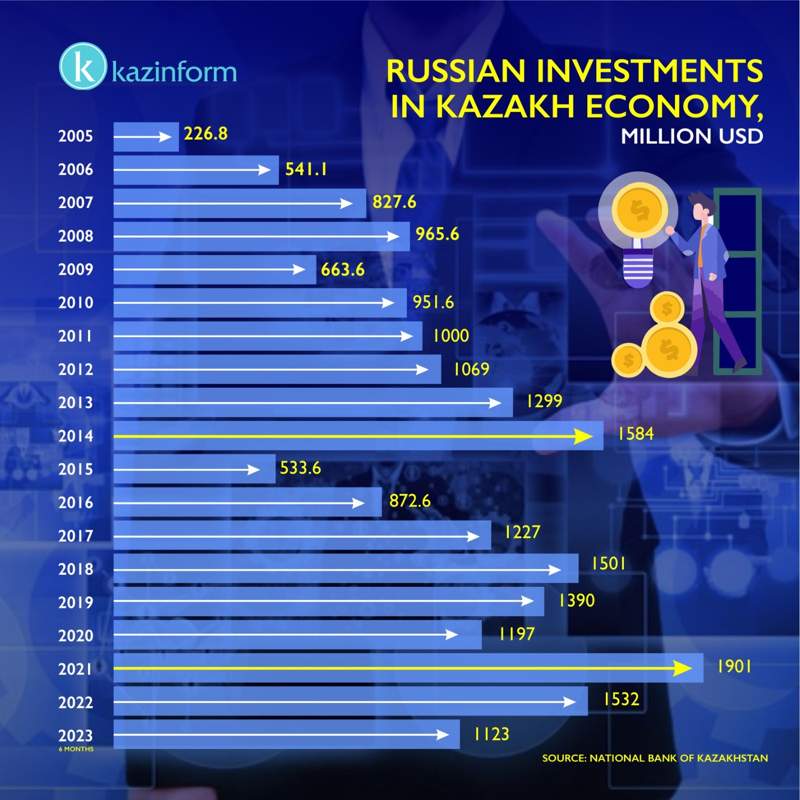 Russian investments went up from just $226.8 million in 2005, according to the data from the National Bank of Kazakhstan. It continued to grow, but plummeted a bit in 2015 to $533.6 million from $1.58 billion in 2014.
The energy sector is a linchpin of bilateral economic cooperation. Kazakhstan has abundant reserves of oil and natural gas, while Russia is a global energy powerhouse.
Russian energy companies have made substantial investments in Kazakhstan's energy sector, developing its vast oil and gas fields. The Caspian Pipeline Consortium (CPC) is an example of their collaboration, allowing Kazakh oil to be exported through Russian territory to global markets.
Russia owns a 24 percent stake in the pipeline, and Kazakhstan's KazMunayGas – 19 percent. This vital oil pipeline, stretching over 1,500 kilometers and running from the Tengiz field in Kazakhstan across southern Russia to the port of Novorossiysk, serves as a crucial transportation route for Kazakh oil to reach international markets via Russian territory.
Interregional forums
The annual interregional forums, held at key cities along their shared border, have played a pivotal role in fortifying strategic partnership.
These gatherings have led to agreements on the development of cross-border industrial zones, the expansion of transportation infrastructure, and the promotion of tourism.
The first Forum of Interregional Cooperation was held in Omsk, Russia, in 2003 at Kazakhstan's initiative. Since then, the forums have been held in a variety of cities, including Chelyabinsk, Uralsk, Novosibirsk, Aktobe, Orenburg, Ust-Kamenogorsk, Astrakhan, Pavlodar, Yekaterinburg, Atyrau, Sochi, Astana, and Moscow.
The forums provide a platform for participants to discuss a wide range of issues, including trade and investment, transportation and logistics, industrial cooperation, agriculture, energy, science and technology.
The forums also serve as an opportunity to sign agreements and launch new joint projects.
The latest forum took place in Moscow in November 2022 with President Tokayev attending the forum in-person. The forum was attended by regional leaders, representatives of sectoral government bodies and business circles of the two countries.
As part of the forum last year, the two countries signed 17 agreements worth 23.3 billion tenge ($50 million).
Speaking to the participants of the event back then, President Tokayev emphasized that the removal of all restrictions and the creation of mutually beneficial conditions in trade is the key to high-quality economic growth of Kazakhstan and Russia.
Interregional cooperation
Border territories play a key role in establishing interstate relations between Russia and Kazakhstan. 12 constituent entities of the Russian Federation border with 8 regions of Kazakhstan.
According to the Eurasian Monitoring Center, the gross regional product (GRP) of the border regions of Kazakhstan as of the end of 2022 reached 38.4 percent of the GDP of Kazakhstan, and the GRP of the border regions of the Russian Federation stood at 18.69 percent of Russia's GDP.
To form a modern and efficient infrastructure for selling products, a system of trade hubs for the entire Eurasian space is being created in the border regions of Kazakhstan. This also includes the creation of the Eurasia cross-border trade center in western Kazakhstan on the border with the Russian Federation.
Similar trade hubs are being created on the borders with Uzbekistan and Kyrgyzstan, as well as on the border with China.
A special subcommittee on cross-border and interregional cooperation is working whose key tasks include the coordination and implementation of interregional cooperation programs.
According to Lydia Parkhomchik, an expert at the Institute of World Economy and Politics, the interregional format of cooperation creates an opportunity for business structures that can develop joint economic projects. But this requires investment from the state.
"Kazakhstan is interested in creating a network of cross-border hubs that will become an infrastructural support for the unified commodity distribution system of the EAEU. There are all the prerequisites, conditions and potential for this," said Parkhomchik at a roundtable in Astana in August discussing the interregional cooperation.
The agenda of the upcoming forum
The interregional forum on November 9 will be focused on the agricultural cooperation. Tokayev and Putin will join the forum via video conferencing.
The forum will include a plenary meeting with the participation of Deputy Prime Minister of Kazakhstan Serik Zhumangarin and Deputy Prime Minister of Russia Alexey Overchuk, a meeting of the Kazakh-Russian Business Council. It will also feature panel sessions on such topics as food security, digital technologies in the agro-industrial complex and agricultural education and training.
The same topic was at the focus of the interregional forum in 2015. According to the Kazakh Ministry of Trade and Integration, as part of the forum, it is expected to sign three interregional documents. First, it is agreement between the akimat of Kostanay region and the government of Bashkortostan on realization of international and foreign economic relations in trade-economic, scientific-technical, cultural and humanitarian spheres.
Second is the roadmap for realization of the agreement on trade-economic, scientific-technical, cultural and humanitarian cooperation between the akimat of Kostanay region and the government of Orenburg region in Russia.
Third document is the roadmap for implementation of the agreement on trade-economic, scientific-technical, cultural and humanitarian cooperation between akimat of West Kazakhstan region and the government of Orenburg region in Russia for 2024-2026.
Two commercial documents worth $83 million are also expected to be signed at the forum, including on production of bakery products between Qyzyljar managing company and Russia's Khlebprom, and on production of hoisting equipment between Kazakh Invest on North-Kazakhstan region and Russia's Uralkran company.
Agricultural cooperation
Outlining promising areas of cooperation, Kazakh economist Anuar Nurtazin highlighted agricultural cooperation besides logistics and trade and water and energy.
"For Kazakhstan, in addition to logistics and trade, agricultural cooperation is coming to the forefront, as the Head of State also says. This is the creation of so-called new technological production facilities on the territory of the country, which will allow us to bypass possible sanctions pressure, starting from small parts and ending with the production of large agricultural machinery," said Nurtazin at a roundtable in Astana in August.
Indeed, Kazakhstan and Russia can be considered as agricultural powerhouses. Both Kazakhstan and Russia have immense land areas, which provide extensive agricultural potential. Russia is the largest country in the world by land area, and Kazakhstan is the ninth largest. This vast expanse of land allows for the cultivation of a wide variety of crops and the raising of livestock.
Both countries are major exporters of agricultural products. Russia is one of the world's leading exporters of wheat, barley, and sunflower oil. Kazakhstan is known for its wheat and other grain exports. They play a significant role in the global food supply chain.
Despite their agricultural strengths, both countries also face challenges, such as climate change, infrastructure limitations, and the need for continued modernization.
Kazakhstan's agricultural exports to Russia made $561.6 million in 2022, while imports reached a staggering $3.3 billion. In 2021, for example, Kazakhstan exported $542.2 million in agricultural products to Russia, while imported products worth $2.7 billion.
Between January and August 2023, exports reached $327.3 million, while imports made $2 billion.
While there may be a trade imbalance, it does not diminish Kazakhstan's overall position as a key agricultural producer and exporter in the region. Additionally, the government and local agricultural businesses are working to increase domestic production to reduce the reliance on imports in certain categories and achieve a more balanced trade in the future.