10:00, 09 June 2023 | GMT +6
Closer look at key trends shaping Kazakhstan's investment climate
ASTANA, KAZINFORM – Kazakhstan attracted record $28 billion in foreign direct investments (FDI) in 2022. The Netherlands, the United States, Switzerland, and Belgium remain top investors. More about the key trends in the current investment landscape in Kazakhstan is in the latest article of Kazinform.
Unprecedented investments
As of the end of 2022, the gross inflow of FDI in Kazakhstan amounted to $28 billion, which is 17.7 percent more than in 2021 ($23.8 billion). This is a record figure for the last 10 years - in 2012, the volume of FDI reached $28.9 billion.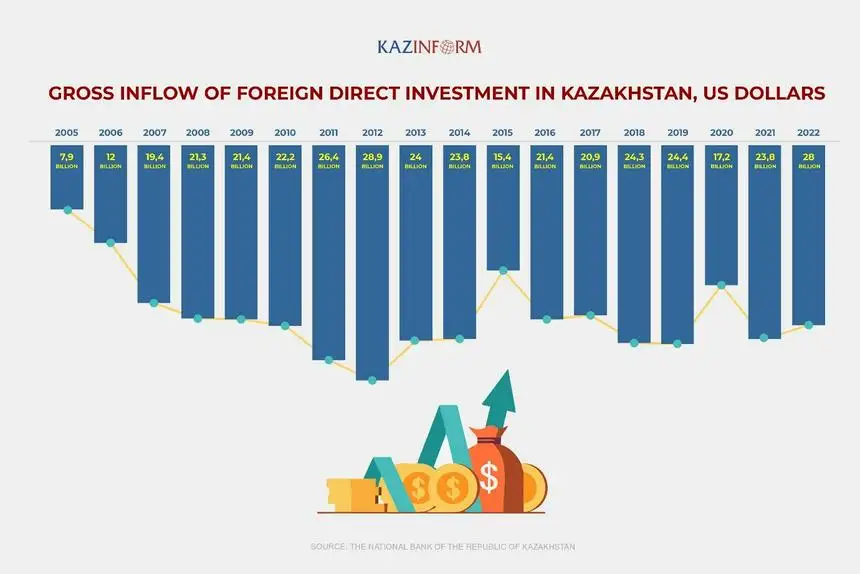 According to the Kazakh government, the intermediate target indicators of the Concept of Investment Policy of Kazakhstan until 2026 were exceeded by 14.3 percent last year.
At the investment headquarters meeting on May 29 in Astana, Deputy Minister of Foreign Affairs Almas Aidarov said 199 investment projects in key sectors of the economy worth 2.3 trillion tenge ($5.1 billion) were commissioned in 2022.
In 2023, another 281 projects worth 1.9 trillion tenge ($4.2 billion) are planned to be launched.
Who are the biggest investors?
The leader in the volume of investments in Kazakhstan is the Netherlands, with $8.33 billion in 2022, an increase of 19.7 percent, and the highest recorded in 2021 at $8.9 billion.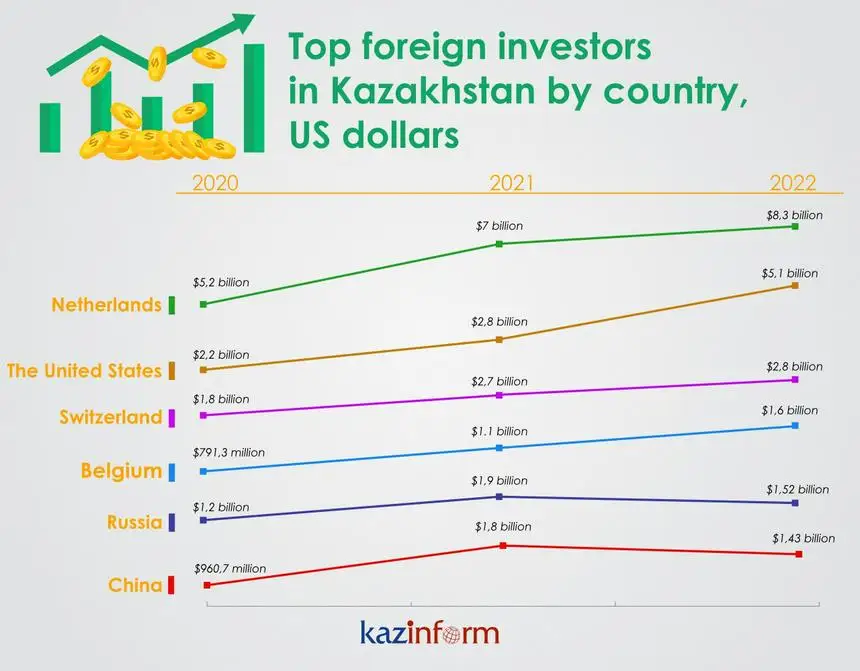 Over the past 30 years, direct investment totaled nearly $110 billion. Besides being the largest investor, the Netherlands is one of the five largest trading partners of Kazakhstan. More than 900 companies with Dutch capital work in Kazakhstan.
Next comes the United States with $5.1 billion. They made a notable growth from just $2.8 billion in 2021 and $2.2 billion in 2020. The latest high-level visits, including by U.S. State Secretary Antony Blinken and President Kassym-Jomart Tokayev's visit to New York in September 2022, where he met with top American executives, are expected to bring trade and investments with American partners up.
Among big investors are also Switzerland - $2.76 billion, Belgium - $1.56 billion, Russia - $1.52 billion, South Korea - $1.48 billion, China - $1.43 billion, France - $770.2 million, the United Kingdom - $661 million and Germany - $469.5 million.
Chinese investments
China is among the largest investors in Kazakhstan's economy, with the total volume of investments exceeding $23 billion.
On June 2, Kazakh Invest national company and the Chinese metallurgical company Zijin Mining agreed to develop deposits of non-ferrous and rare metals in Kazakhstan. Zijin Mining is a large mining group engaged in the exploration and development of gold, copper, zinc, and other mineral resources worldwide. The company is implementing more than 30 major mining projects in 12 countries and 14 regions of China. The company's market capitalization exceeded $47 billion in 2022.
During his recent state visit to China, President Kassym-Jomart Tokayev invited Chinese companies to invest in Kazakhstan. He mentioned renewable energy as a sector with particular growth opportunities.
Tokayev's visit saw the signing of landmark agreements, including the establishment of a small-knot assembly and copper plant, among others.
Notably, as part of the agreement between Meridian Company and China's HKC Corporation, a major Internet of Things solutions provider in Hong Kong, China and Singapore, it is expected to attract investment of more than 11.8 billion tenge ($26.4 million). The production capacity of the enterprise will be up to 500,000 units of household appliances a year.
A license agreement was signed as part of the Kazakh-Chinese investment roundtable in Xian between Orbis Manufacturing, a subsidiary of Orbis Kazakhstan, and EXEED International that provides for the right of Orbis Manufacturing to produce cars of the premium Chinese brand EXEED in Kazakhstan.
The capacity of the plant is 80,000 cars per year. The total cost of the project is $150 million.
Multi-brand plant Astana Motors Manufacturing Kazakhstan will establish a small-knot production of cars under Changan, Haval and Chery brands. It is supposed to produce not less than 30,000 units of each of the mentioned brands annually.
The plant, which will be commissioned in 2025, will create 2,600 jobs. The total cost is 115 billion tenge ($257.1 million).
The total volume of car sales in China in 2022 reached 27 million units, according to Nazigul Zhanakova, a senior expert at the Center for Macroeconomic Research and Forecasting at the Economic Research Institute. China, which controls a quarter of global sales, continues to be the world's largest automotive market.
«This year, China's auto industry continues to expand. According to April data, Chinese car sales rose 82.7 percent over the same period last year to 2.16 million units. This growth in car sales is due to several reasons. First of all, it is a low base in comparison with last April, when the country was in a state of lockdown due to the COVID-19 pandemic,» said the expert.
She noted the share of Chinese cars continues to increase in the Kazakh market.
«Skepticism about Chinese cars is going away, there is more confidence in Chinese manufacturers. In addition, a more attractive price and more technological stuffing make Chinese brand cars more affordable and preferred by the population,» she added.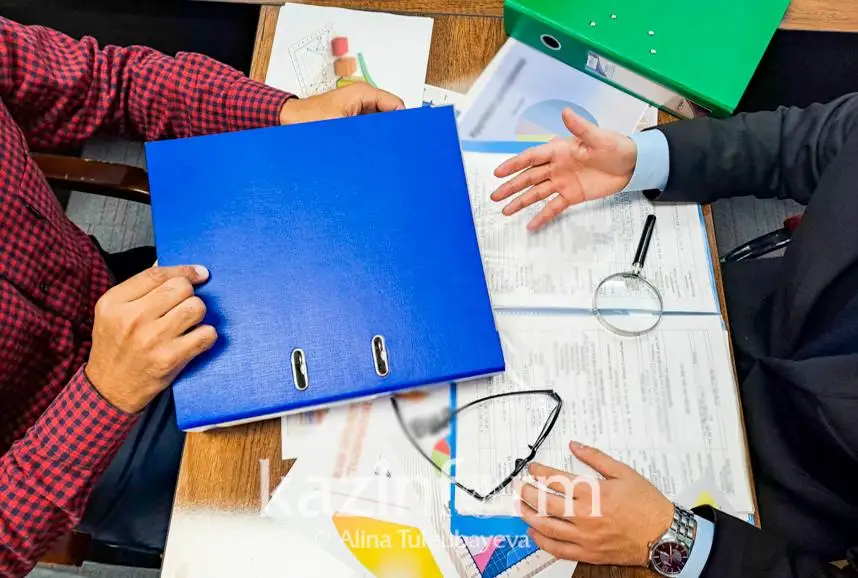 European investments are growing
Out of $350 billion in FDI attracted to Kazakhstan over the past 30 years, almost half of it is of European origin, said President Tokayev at the Central Asia – European Union summit in Cholpon-Ata on June 2.
The European Union is Kazakhstan's largest trade partner, accounting for more than 40 percent of the nation's foreign trade.
More than 3,000 companies with the participation of European capital operate in Kazakhstan, including such transnational corporations as Shell, Eni, Total, Air Liquide, Alstom, and Siemens.
Investments are growing in such promising and strategically important sectors as the extraction of rare-earth metals and the production of green hydrogen.
One of the breakthrough projects was the start of construction by the German-Swedish company Svevind of a plant to install wind and solar power stations and to produce three million tons of green hydrogen in Kazakhstan.
«This accounts for about 20 percent of the EU's needs in this product,» said Tokayev.
What sectors are most attractive to foreign investors?
In terms of industry, the largest amount of investment was directed to the mining industry - $12.1 billion, manufacturing - $5.6 billion, wholesale and retail trade - $5.08 billion, professional scientific and technical activities - $1.1 billion, transportation and warehousing - $1.1 billion, construction - $698 million, financial and insurance activities - $650 million, and electricity and gas supply - $635.6 million.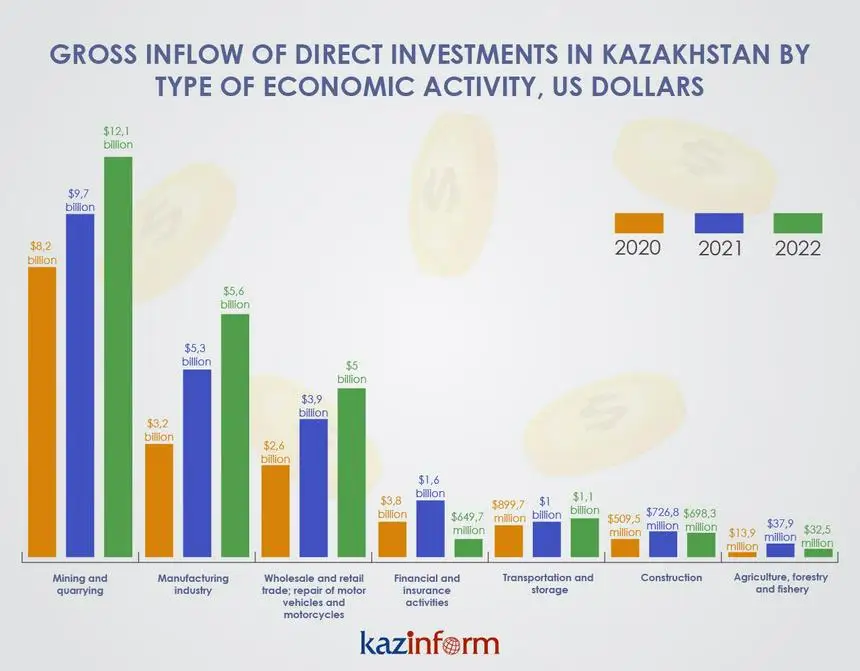 Kazakhstan is rich in natural resources, including oil, gas, coal, uranium, and various minerals. Over the years, the country's energy sector presented significant opportunities for foreign investors in exploration, production, refining, and distribution. However, Kazakhstan now tries to redirect the focus to sectors with high-added value.
Kazakh financial analyst Rasul Rysmambetov said agriculture and logistics are promising areas for investment.
«The most attractive sectors for investment today are agriculture, provided that the issue of land allocation and electricity in the long term is resolved, and, most importantly, the issue of water. The second attractive direction for investment, within agriculture, is logistics. Logistics is very important - any projects which improve intra-Kazakhstan inter-regional trade,» said the expert.
«Since we border with such states as Iran, China, we would be interested in producing food products. Even though these two countries provide themselves with enough food, there is plenty of room for our goods there anyway. Investments should also be made to replenish the domestic market, so that we can prepare everything for ourselves,» he explained.
The new investment policy
In July 2022, Kazakhstan approved the new concept of the investment policy of Kazakhstan until 2026 aimed at the formation of a new investment cycle and revision of investment attraction policy taking into account new trends, including ESG standards.
Making investment decisions are increasingly based on the ESG (environmental, social, and corporate governance) criteria, non-compliance with which can lead to the closure of capital markets for entire countries and individual companies. National governments are actively developing national ESG strategies and assessing the risks and opportunities arising from the growing global influence of the ESG agenda.
The document provides for bringing the level of investment in fixed capital up to 25.1 percent of GDP and increasing the inflow of foreign direct investment up to $25.5 billion as early as 2026.
It envisions a set of measures to revise the policy of investment attraction, taking into account new trends, allowing to change the structure of investment towards the competitive production of goods with high added value.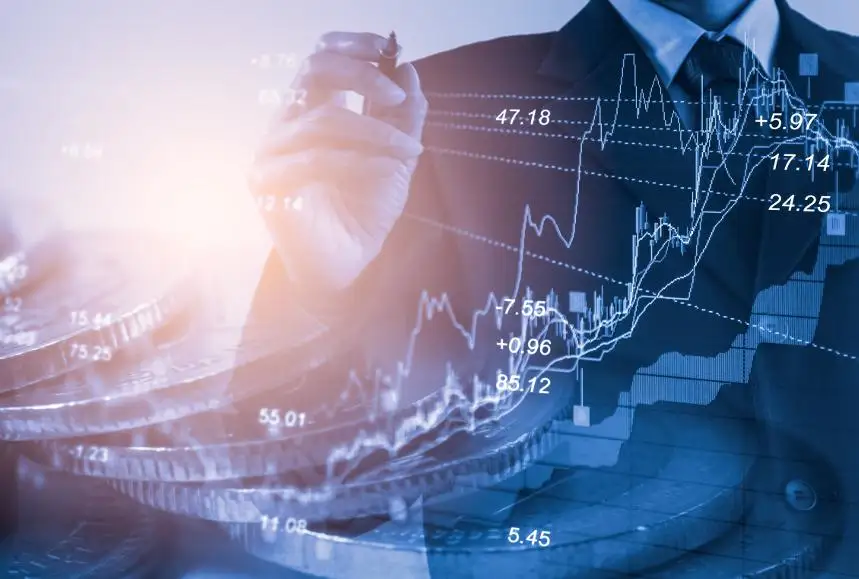 Photo: soupstock.in
Tightening carbon regulation is another global trend to which Kazakhstan seeks to adapt. For the foreseeable future, policies to strengthen carbon regulation could pose serious problems for countries that have high levels of greenhouse gas emissions. The impact will be felt throughout the value chain.
Tax preferences
Another important aspect of improving Kazakhstan's investment attractiveness is a predictable and transparent tax policy. In this regard, a new Tax Code is being developed, which envisions the digitalization of tax control, transition to differentiated rates, promotion of technological modernization, and simplification of special tax regimes.
Tax preferences are provided to investors to increase the investment attractiveness of the country. According to the country's tax legislation, almost all direct investments, which develop the country's economy, are concentrated in special economic zones, Astana Hub or the Astana International Financial Center, to which tax incentives in the form of exemption from income tax and other indirect taxes are applied.
If, however, investors receive remuneration or dividends from their investments, they are subject to taxation. Kazakh companies send remunerations or dividends to foreign investors, subject to a deduction of a tax rate of 15 percent.
According to the State Revenue Committee of Kazakhstan, since January 1, 2023, the dividend exemption has been abolished.
«Benefits in terms of full exemption of dividends of non-residents (legal entities and individuals) from taxation with the establishment of a rate of 10 percent are excluded if the conditions established by the Tax Code are met,» said the committee.
However, according to their data, benefits on dividends of non-residents (legal entities and individuals) on securities that are on the day of sale in the official lists of the stock exchange (KASE, AIFC) will remain. These benefits will apply only when conducting regular trades. The criteria are determined by the government.
Among the new instruments are the Agreement on Investment Obligations, the Improved Model Contract and simplification of the investment agreement process.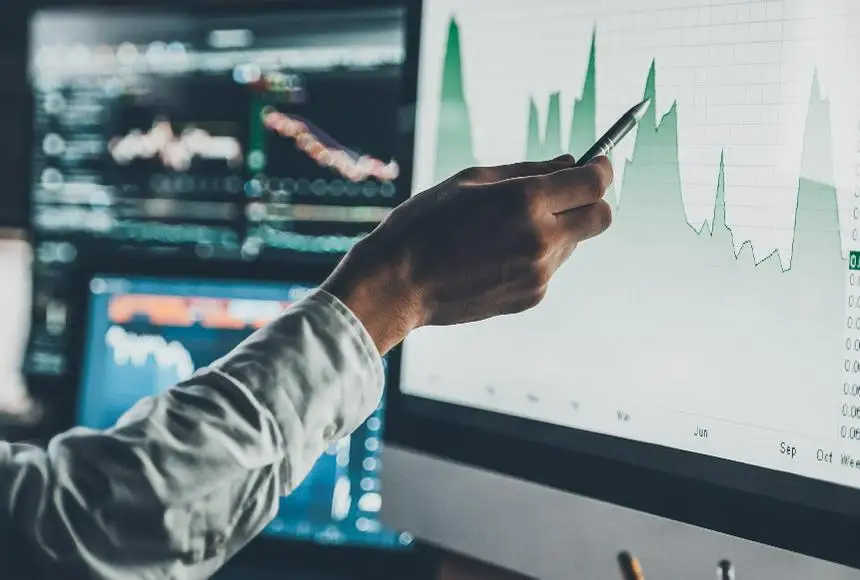 Photo: bloomberght.com
Why investments are profitable for Kazakhstan
According to economist Arman Baiganov, the profitability of investments should be assessed by the multiplier effect.
«First, when investors come, new jobs are created. This reduces the level of unemployment and social tension, because people are employed, they begin to receive salaries, which, by the way, are subject to individual income tax (IIT). That is, there are new tax deductions to the budget. Second, when new industries are created, various companies are created near them, and they buy various services that are not part of this economically tax-free zone. Thus, the new industries create demand for other goods within the country. Again, new tax deductions to the budget,» he said in a comment for this story.
«In addition, most often investors take over some of the obligations for the construction of social infrastructure facilities - schools, hospitals, clinics, and it is always beneficial for the state, because the state does not invest its own money, and social facilities remain with us,» explained Baiganov.
In addition to monetary investments, investors bring new technologies, especially large companies.
«Large companies are always more innovative, because they accumulate and implement the best practices from around the world. And they bring this experience, technology, management here,» said the expert.
According to him, investments are one of the drivers of economic growth of any state. And the more investors are willing to invest in the state, the more successful it is considered to be.