10:24, 30 May 2023 | GMT +6
Dimash's 'The Story of One Sky' screened at Kazakhstan Culture Days in the UK
LONDON. KAZINFORM - The V ECG Film Festival has started in the UK, bringing together industry professionals, film enthusiasts and diplomats from various countries. One of the highlights of the film festival was the «Kazakhstan Culture Days», which took place on May 26. It was organized jointly with the Dimash fan club in the UK, dimashnews.com reports.
The film festival featured special stands showcasing the rich cultural heritage of the Kazakh people.
The «Kazakhstan Culture Days» began with the screening of the 'The Story of One Sky' by Kazakh performer Dimash Qudaibergen. The work made a great impression on all the viewers who watched the music video with bated breath.
The film evening was followed by a discussion with UK fan club administrators Jill Beecham, Sebastiane Dunn and renowned British poet and curator of the Eurasia Creative Association, John Fardon, on stage at the Premier Cinema Romford:
«We in London admire Dimash's talent and creativity, we wish him new bright and creative ideas and boundless creative success.»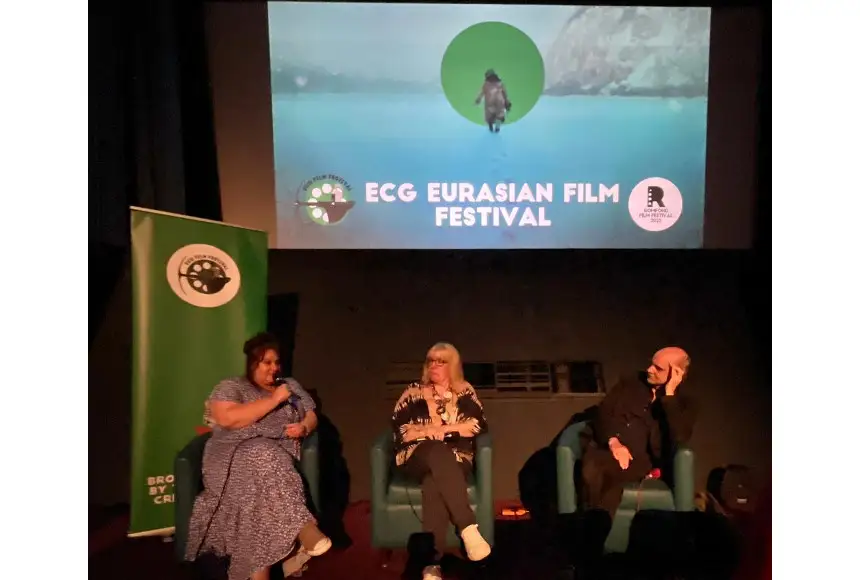 The Dimash Qudaibergen UK and Worldwide Dears fan club was founded in August 2022 and currently has 1,500 members.
In February 2022, Dimash fans donated musical instruments to children at SOS Children's Villages of Kazakhstan. For Dimash's birthday, which was 24 May, Dears held another charity event, donating £500 to Peace One Day organisation headed by CEO Jeremy Gilley who Interviewed the artist in Kazakhstan about the film.