20:40, 29 May 2023 | GMT +6
Head of State meets with reps of intelligentsia in N Kazakhstan rgn
PETROPAVLOVSK. KAZINFORM – President of Kazakhstan Kassym-Jomart Tokayev inspected the newly constructed building of the Kazakh Music and Drama Theatre in the administrative center of North Kazakhstan region, Kazinform cites Akorda.
According to the Theatre's Director Birzhan Zhalgassbayev, the relocation to the new building enabled the creative team to expand its repertoire, enhance its creative contacts with foreign and domestic theatres.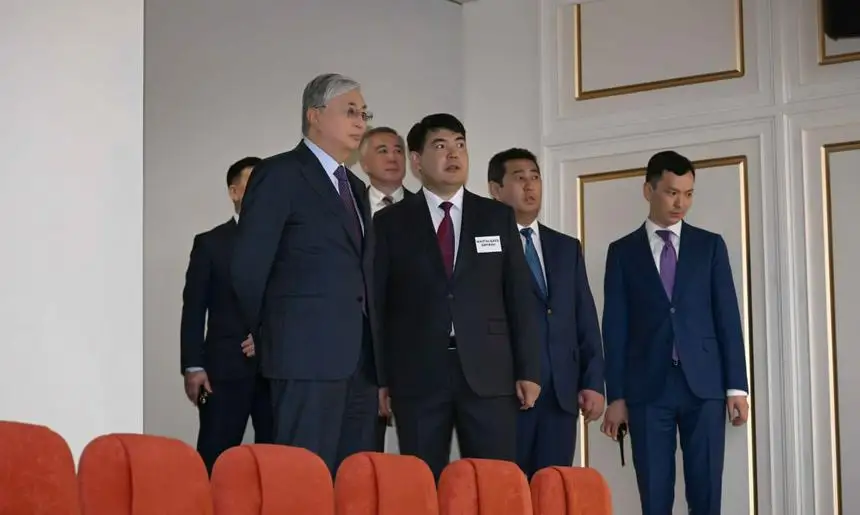 Tokayev also met with the representatives of the intelligentsia and the public.
«Our credo is the unity in the diversity. We need to preserve this unity. We're one nation, Kazakhs or other nationalities, so we should serve for the prosperity of our country… Right now, in particular, we need to keep our accord, friendship, and stability, so we could move forward. For sure, the country faces social and economic and public issues. Even the most developed and prosperous countries have them. But, if there is order and the law is respected in the country, the achievement of the end result is guaranteed,» said the Kazakh Head of State.
Tokayev discussed the issues of the country's development and upbringing of the upcoming generation with the pubic figures.
The Head of State noted the importance of holding the events dedicated to the 130th anniversary of the prominent figure of Kazakh literature, poet Magzhan Zhumabayev at the high level.