21:49, 08 June 2023 | GMT +6
Kazakh FM Nurtleu met with UNESCO Director-General Audrey Azoulay
ASTANA. KAZINFORM – Deputy Prime Minister – Minister of Foreign Affairs of the Republic of Kazakhstan Murat Nurtleu met with UNESCO Director-General Audrey Azoulay who is on her first official visit to Kazakhstan, Kazinform cites the press service of the Kazakh MFA.
Minister Nurtleu said that multi-faceted cooperation between Kazakhstan and UNESCO at all levels contributes to the implementation of the UNESCO Charter goals in education, science and culture. He also expressed gratitude to the UNESCO leadership for the continued support of Kazakhstan's initiatives and nominations.
The Foreign Minister assured that Kazakhstan is strongly committed to further develop cooperation with the Organization and will continue to support the strategic goals of UNESCO, aimed at expanding worldwide access to education, science, technology and information.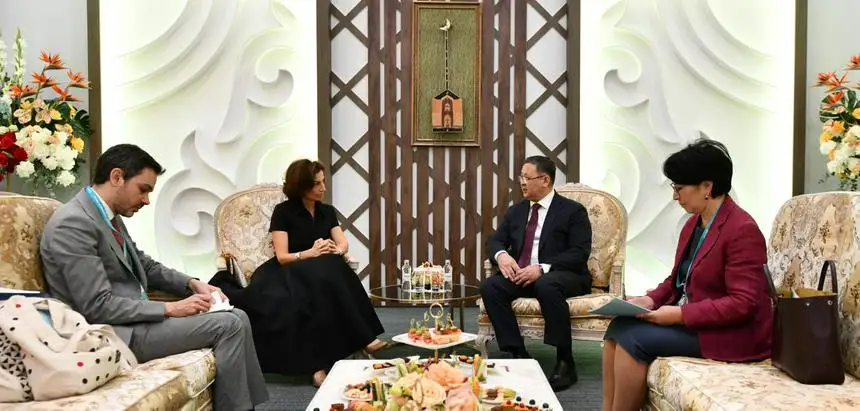 In turn, Director-General Azoulay reaffirmed her commitment to collaborate with Kazakhstan in promoting inclusive and sustainable development, including through improvement of the quality of education, protection of biodiversity, promoting cultural diversity, and the promotion of media development. She expressed her readiness to provide all possible assistance to the implementation of major reforms in Kazakhstan within the mandate of the Organization.
Azoulay expressed interest in implementation of new projects, including in the regional format in education, science and culture. In this context, she informed about the transformation of the UNESCO Almaty Cluster Office into a Multi-Sectoral Regional Office of the Organization.
It should be noted that Azoulay began her visit to the country by visiting the Mausoleum of Khoja Ahmed Yasawi in Turkestan, which is the first Kazakhstani site inscribed on the UNESCO World Heritage List.