13:37, 16 June 2022 | GMT +6
Kazakh PM, UN Under-Secretary- General meet in Almaty
ALMATY. KAZINFORM – Prime Minister of Kazakhstan Alikhan Smailov held talks with UN Under-Secretary-General and Associate Administrator of the United Nations Development Program (UNDP) Usha Rao-Monari in Almaty, Kazinform cites the prime minister's press service.
During the talks the sides discussed a wide range of issues linked to bilateral cooperation within the framework of the UNDP's activity in Kazakhstan.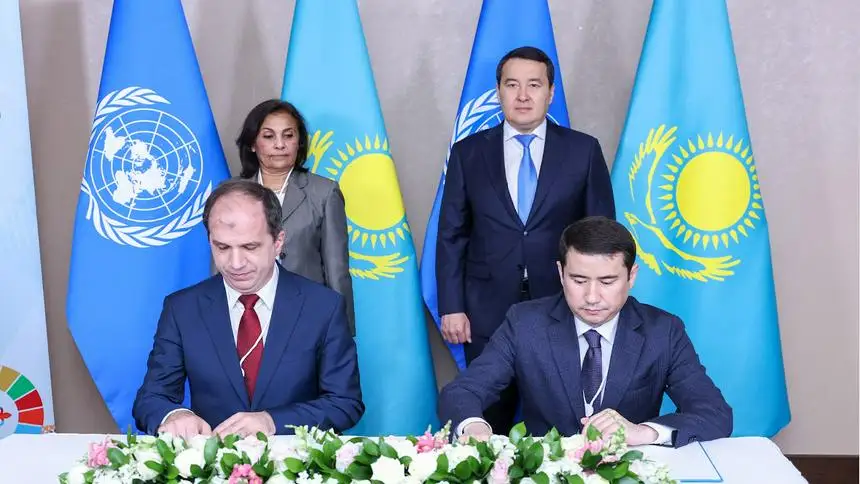 At the onset of the meeting Prime Minister Smailov reminded that Kazakhstan had been admitted as a member of the United Nations on March 2, 1992 soon after gaining its independence.
«We felt the all-round support of the United Nations ever since,» said Smailov, adding that participation in the UN global policy and programs is one of the priorities of Kazakhstan's foreign policy.
According to him, the UNDP's activity in Kazakhstan is primarily focused on environmental protection, including environmental projects in Kyzylorda and East Kazakhstan regions as well as six designated conservation areas with a total area of over 2 million ha.
The Kazakh Prime Minister went on to point out that Kazakhstan fully supports the UNDP Country Program for 2021-2025 embracing the areas of top priority for Kazakhstan.
In his words, the program is relevant in light of the ongoing sweeping political and economic reforms proposed by Kazakhstan President Kassym-Jomart Tokayev as part of a New Kazakhstan (Jana Qazaqstan) concept.
For her part, Usha Rao-Monari reiterated the readiness of the United Nations to further support Kazakhstan's sustainable development.
In conclusion, the Ministry of National Economy of the Republic of Kazakhstan and the UNDP signed the Protocol of Intentions as part of the implementation of the 2030 Agenda for Sustainable Development and the UNDP Country Program for 2021-2025 which will facilitate further expansion of cooperation between Kazakhstan and UNDP.
Usha Rao-Monari traveled to Almaty to take part in the Second Regional Sustainable Development Goals Summit held in the city on Thursday.