16:09, 13 November 2020 | GMT +6
Kazakhstan, Canada discuss aerospace and transportation cooperation
OTTAWA. KAZINFORM - In the frame of Kazakhstan-Canada Business Council there was held a first Working Group in the field of Aerospace and Transportation. Despite the late time in Kazakhstan and early in Canada, the event brought together about 100 participants from two countries, Kazinform has learnt from the press service of the Kazakh MFA.
During the meeting, representatives of the Aerospace Committee of Kazakhstan, as well as daughter organizations, presented Kazakhstan's achievements in the aerospace industry, development priorities and opportunities of cooperation between the two countries.
The main directions of development of the civil aviation sector in Kazakhstan were presented by the Civil Aviation Committee and the Aviation Administration of Kazakhstan.
The representative of the European Bank for Reconstruction and Development made a review of the transport sector and the Bank's participation in the implementation of projects in Kazakhstan.
During the event in the format of a live discussion, were reached agreements on the development of bilateral cooperation in these areas.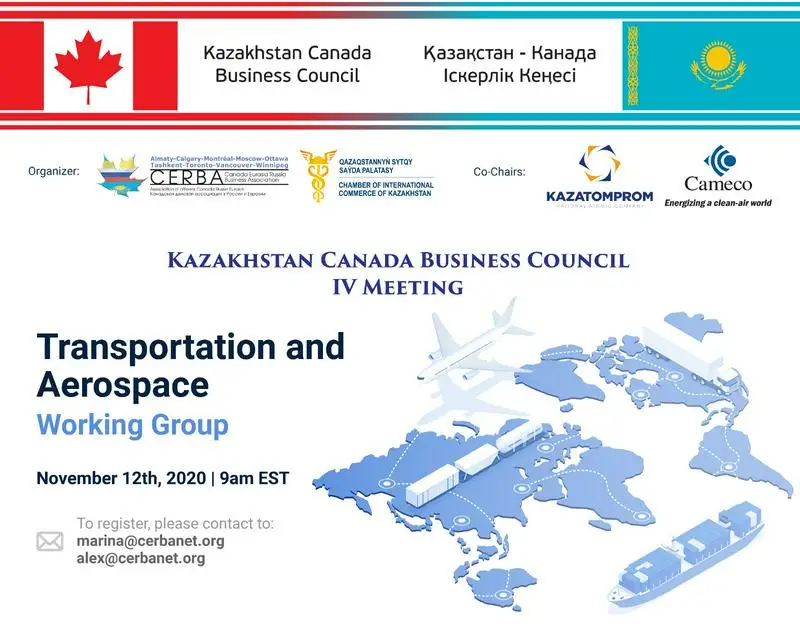 In November 2020, a series of virtual events will be held within the framework of the 4th meeting of the Kazakhstan-Canada Business Council (KCBC).
During the month, 5 Working Groups will be held in different sectors: agriculture, mining and energy, aerospace and transport, construction and infrastructure, healthcare and education.
The key event will be the Plenary Session of the Business Council with the participation of members of the Governments of Kazakhstan and Canada, representatives of government agencies, business community, as well as academic and public circles of the two countries.
The main topic of the Business Council-2020 is «Post-pandemic development of cooperation between Kazakhstan and Canada: recovery and development.»
The event is aimed at further development of business relations between the companies of Kazakhstan and Canada in priority sectors of the economy, attraction of investments, development of trade in a post-pandemic world.
Kazakhstan – Canada Business Council (KCBC) was established in 2015. Since then, three meetings have been held - in Nur-Sultan in 2016-2017 and in Ottawa in 2018. KCBC is Co-Chaired by Mr. G.Pirmatov, Chairman NAC Kazatomprom and Mr. T.Gitzel, President of Cameco.