09:11, 15 June 2023 | GMT +6
Kazakhstan-EU cooperation development issues discussed in Astana
ASTANA. KAZINFORM Deputy Prime Minister – Minister of Foreign Affairs of Kazakhstan Murat Nurtleu met with the EU Special Representative for Central Asia Terhi Hakala and Deputy Secretary General of the European External Action Service Enrique Mora.
The parties exchanged views on a range of topical issues of interregional cooperation in the «CA-EU» format, as well as expressed mutual interest in the development of prospective projects between Kazakhstan and the EU.
Noting the constructive nature of negotiations with European partners during his recent visit to Brussels, Minister Nurtleu stressed that Astana is interested in the further progressive development of relations with the EU, Kazinform learnt from the Foreign Ministry's press service.
The Minister stressed the positive dynamics of the political dialogue at the highest level, noting the meaningful negotiations of Kazakhstan's President Kassym-Jomart Tokayev with the President of the European Council Charles Michel on the sidelines of the second meeting of the leaders of Central Asia and the EU on June 2, 2023 in Cholpon-Ata, as well as the holding of the 10th meeting of the Central Asia-EU High-level Dialogue at the level of deputy foreign ministers.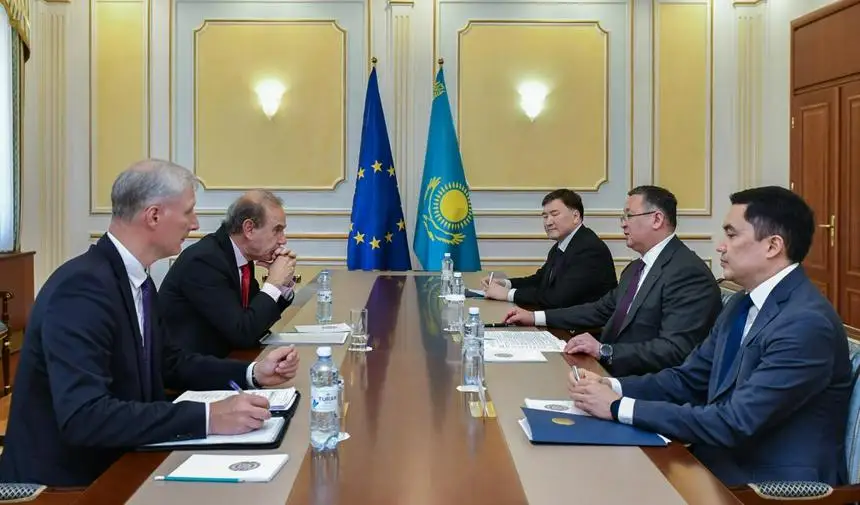 Kazakh Foreign Minister welcomed regular and dynamic interaction between the parties on priority areas of bilateral and regional cooperation, in particular, in the field of transport and logistics. Important preliminary assessments of the study of the European Bank for Development and Reconstruction on sustainable transport corridors between Europe and Central Asia, presented during the Second CA-EU Economic Forum in Almaty on May 19, were noted.
Minister Nurtleu noted that the issue of facilitation of the EU visa regime for citizens of Kazakhstan is one of the priority issues of bilateral cooperation. Referring to the agreements reached during his visit to Brussels, he expressed the readiness of the Kazakh side to start substantive consultations on this issue in the near future.
In turn, the EU Special Representative Hakala noted that «the European Union attaches great importance to its relations with Kazakhstan and considers the country a key partner in Central Asia.» She expressed confidence in the continuation of active interaction between Kazakhstan and the EU to achieve common goals such as sustainable development, support for peaceful processes, stimulation of economic growth, and support for reforms.
In turn, Mora highly appreciated the current state of relations between Astana and Brussels and said that the EU is actively working to deepen cooperation with Kazakhstan and efforts to bring it to one of the priorities of its foreign policy.
In general, the meetings allowed to compare notes on a number of priority issues, including the development of cooperation in transport and logistics, critical raw materials, visa facilitation, etc.
The parties also held a brief review of the implementation of the agreements reached during the second meeting of the Heads of Central Asian States and the President of the European Council and the preparations for the EU-CA Ministerial Meeting in autumn 2023.