20:47, 31 May 2023 | GMT +6
Kazakhstan joins meeting on occasion of 20th anniv of Proliferation Security Initiative
CHEJU. KAZINFORM – The First Deputy Minister of Foreign Affairs of Kazakhstan Kairat Umarov participated in the High-level meeting on the occasion of the 20th anniversary of the Proliferation Security Initiative (PSI), Kazinform cites the press service of the Kazakh MFA.
The event gathered high-level dignitaries from diplomatic and defense ministries of the state parties to the Initiative from Asia, Europe, the Americas, Africa and the Pacific as well as representatives from international organizations.
Delivering his statement at the plenary meeting, First Deputy Minister Umarov noted that Kazakhstan is a party to key agreements in the sphere of non-proliferation and disarmament and fully supports the PSI.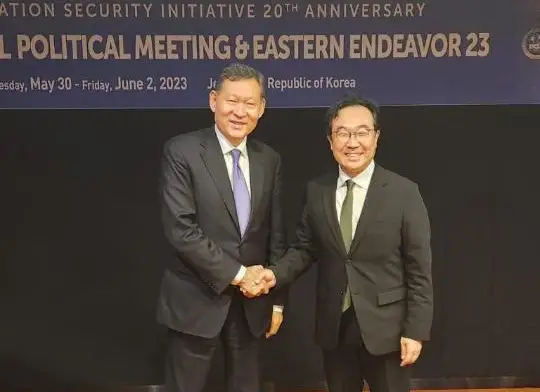 In this context, the representative of the Kazakh Foreign Ministry underscored that Kazakhstan is continuously improving its national export control system, which allows maintaining effective monitoring of the circulation of sensitive materials and dual-use technologies. In particular, on February 28, 2023 the new law «On the control of specific goods» entered into force, taking into account all requirements stemming from Kazakhstan's international obligations as well as the latest international practice in the sphere of nonproliferation of WMD components and means of their delivery.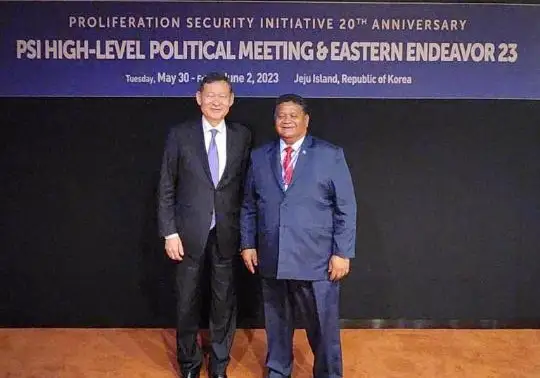 The meeting participants' attention was drawn specifically to the initiative of President of Kazakhstan Kassym-Jomart Tokayev on the establishment of an International Agency on Biological Safety with the objective to become a comprehensive and effective solution to the issue of global pandemics. The importance of the functioning of the Central Asia Nuclear-Weapon-Free Zone, which prohibits the deployment, transit and production of WMD in the region, was noted as well.
At the event, the head of Kazakhstan's delegation conducted bilateral meetings with Bonnie Jenkins, the U.S. Under Secretary of State for Arms Control and International Security, as well as with high-level representatives from the Republic of Korea, Poland, Australia, Palau and the Philippines.