08:25, 08 June 2023 | GMT +6
Kazakhstan participates in United Nations International Bazaar
NEW YORK. KAZINFORM Kazakhstan participated in the United Nations «International Bazaar», a yearly fundraising event held at the UN headquarters.
This event is a significant cultural gathering for the diplomatic community accredited in New York, international organization representatives, and local residents. The United Nations Delegations Spouses' Club (UNDSC) traditionally takes the lead in organizing this event, under the patronage of the spouse of the UN Secretary-General. The opening ceremony commenced with a welcoming address by Csaba Kőrösi, the President of the 77th session of the General Assembly.
Attendees and guests had the opportunity to explore the cultures, traditions, and customs of the countries represented at the fair. The event featured a captivating concert program, showcasing performances by musicians, dancers, and various artists, including Kazakh talents, Kazinform quotes the Foreign Ministry's press service.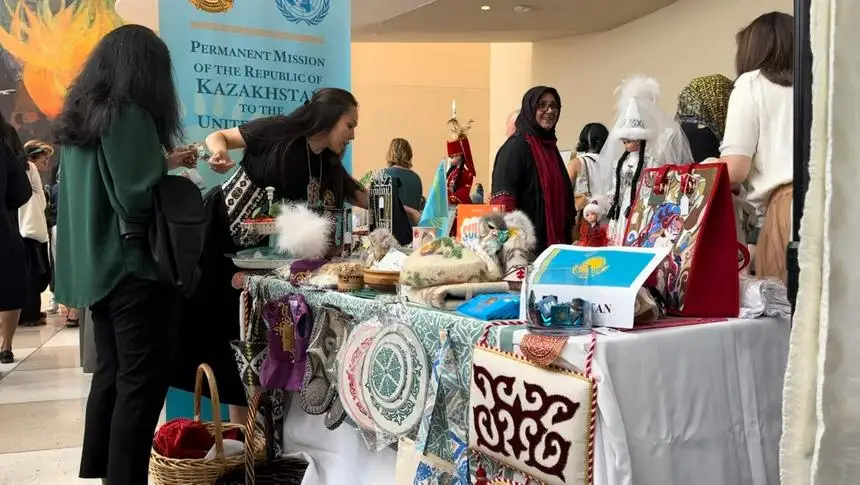 The Permanent Mission of Kazakhstan actively participated in organizing and facilitating the UN charity event. Visitors were delighted to visit the Kazakh booth, where they could immerse themselves in the national culture through displays of exquisite craftsmanship, traditional folklore attire, souvenirs, and informative books about Kazakhstan. The products crafted by Kazakh women entrepreneurs, participants of social initiatives such as «Asyl-Mura» (sewing workshop), «One Village – One Product» (local production), and the «Women's Entrepreneurship Academy» garnered significant interest and demand from the audience.
The funds raised during the fair will be allocated towards charitable initiatives within UN projects around the world.