11:15, 05 June 2023 | GMT +6
Kazakhstan, Sweden strengthen investment cooperation in mining industry
ASTANA. KAZINFORM - Within the framework of the 13th International Mining and Metallurgical Congress «Astana Mining & Metallurgy Congress», the Kazakhstan-Sweden roundtable on «Sustainable Development and Efficiency Enhancement in the Mining Industry» took place. The event, organized with the support of the embassies of Kazakhstan and Sweden, Business Sweden, and «Kazakh Invest» NC JSC, gathered over 100 participants, Kazinform cites the press service of the Foreign Affairs Ministry.
The Swedish delegation was represented by major mining companies such as ABB, Alfa Laval, Volvo, Epiroc, Olofsors, Sandvik, SSAB, and others. These companies are characterized by a high level of energy efficiency, automation, safety, and digitization in the mining industry.
The event was opened with welcoming remarks by Seit Nurpeissov, Counsellor to the Embassy of Kazakhstan in Sweden, and Ewa Polano, the Ambassador of Sweden to Kazakhstan. The speakers emphasized the importance of expanding bilateral relations and called on the business communities of the two countries to strengthen cooperation in implementing joint projects.
In turn, Anara Mekebayeva, Head of Cooperation with European Countries at Kazakh Invest, highlighted that Kazakhstan is an attractive investment platform with broad prospects for foreign companies. She shared information about the state support measures created to attract and ensure the successful activities of investors in the country.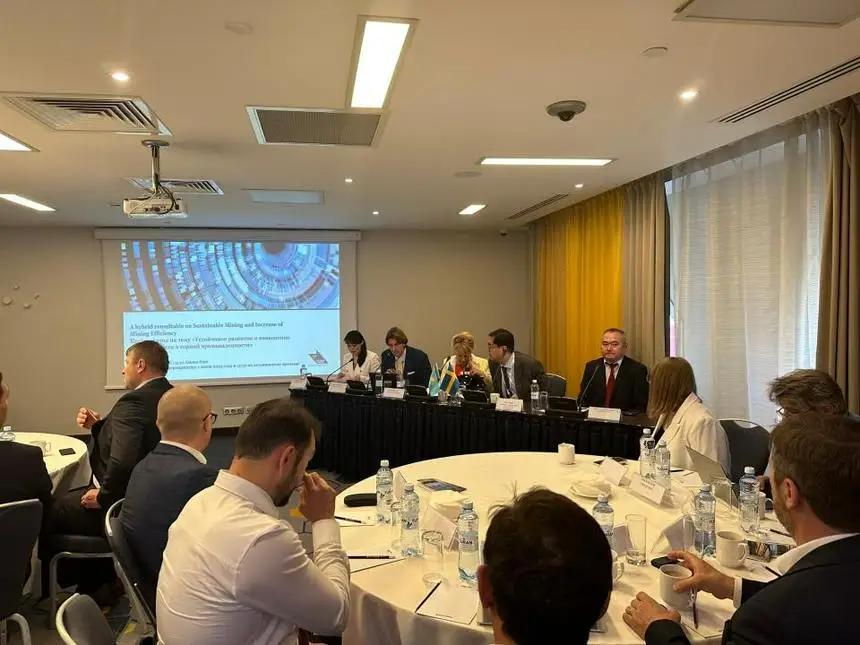 «Kazakhstan has great potential in the extraction and development of mineral resources. We are pleased to invite potential Swedish investors to cooperate in conducting geological exploration, opening new deposits, localizing production, and exchanging expertise and technologies,» noted Mekebayeva.
During the roundtable, various aspects of sustainable development and efficiency improvement in the mining industry were discussed. Representatives of Swedish companies shared their experience and expertise in advanced innovations, green solutions that contribute to reducing negative environmental impact.
Swedish companies were provided with detailed information about the activities of the Committee of Geology of the Ministry of Industry and Infrastructure Development of Kazakhstan, «Tau-Ken Samruk» NC JSC, «Kazgeology» JSC in the areas of state geological exploration, reproduction of the mineral and raw materials base, rational and integrated use of subsoil, and other industry directions.
The roundtable became an important platform for establishing contacts and further development of business relations between representatives of the business communities of Kazakhstan and Sweden. Participants expressed confidence in further deepening cooperation.
For reference: Sweden is an important partner of Kazakhstan in Northern Europe. The countries have a number of intergovernmental agreements aimed at deepening trade and economic cooperation, promoting and protecting investments. The trade turnover between Kazakhstan and Sweden in 2022 reached 325.9 million US dollars (exports – 96.1 million US dollars, imports – 229.8 million US dollars), which is 41.7% higher compared to 2021 (230.1 million US dollars). According to the National Bank of Kazakhstan, from 2005 to 2022, the gross inflow of Swedish direct investments into the Kazakh economy amounted to 556.3 million US dollars.