07:53, 21 June 2023 | GMT +6
KMG, Rosneft Deutschland sign deal on oil supplies to Germany in 2023
ASTANA. KAZINFORM JSC NC KazMunayGas and Rosneft Deutschland entered into a deal on supply of crude oil to Schwedt -based PCK refinery, Kazinform learned from KMG's press office.
As per the agreement, KMG's daughter company KazMunayGas Trading AG will deliver the oil, and the buyer is Rosneft Deutschland, one of the shareholders of PCK refinery.
«Today we have signed a deal on monthly supply of 100,000 tons of crude oil until the end of the year. On behalf of KazMunayGas, I would like to express Kazakhstan's interest in increasing the oil supplies to Germany and thank our partners for a fruitful cooperation,» CEO of JSC KazMunayGas Magzum Mirzagaliyev said during the ceremony of signing the document.
The supply will come from Karachaganak oilfield and will reach 100,000 tons of crude oil per month until the end of 2023. The company said it plans to deliver at least 890,000 tons of oil to Germany this year. Meanwhile, the German side is keen on raising the import of Kazakh oil from the resources of other oil companies of Kazakhstan.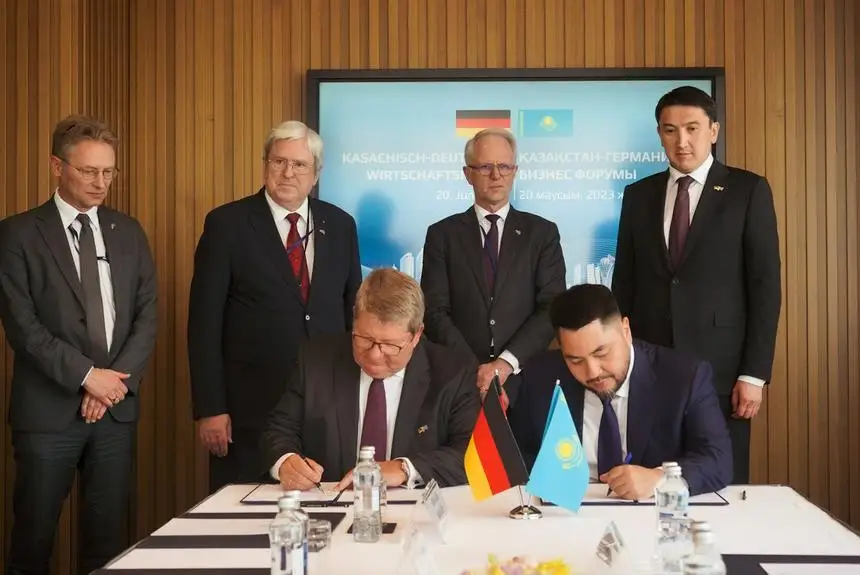 In 2022, the German government addressed Kazakhstan with a request to supply the Kazakh oil via Druzhba oil pipeline to PCK Refinery. In February-May 2023, the volumes of oil supplied via Druzhba pipeline reached 190,000 tons, with 100,000 tons set for June.
Earlier, Kazakhstan and Russia agreed on transit of 1.2mln tons of Kazakh oil to Germany in 2023.
As part of German President Frank-Walter Steinmeier's state visit to Astana, Kazakhstan agreed on additional oil supplies to Germany.
Kazakhstan is one of four major suppliers of oil to Germany.