11:52, 06 April 2023 | GMT +6
OSCE parliamentarians discuss youth problems in modern world
ASTANA. KAZINFORM Chairman of the Senate Committee for International Relations, Defense and Security Askar Shakirov participated in a webinar of the OSCE Parliamentary Assembly on «Dialogue of Future Generations,» Kazinform learned from the upper chamber's press office.
Members of the OSCE Parliamentary Assembly, UN experts, national governments and civil community representatives discussed the prospects of adoption of the Declaration on Future Generations. The participants of the online meeting exchanged experience and accumulated ideas which will be reflected in the resolution on future generations at the annual OSCE PA session in Vancouver.
Being the Deputy Chairman of the OSCE PA and Special Representative for Sustainable Development Goals, Askar Shakirov emphasized the importance of taking the measures in implementation of SDGs. One of the ways of achieving the SDGs is the real and meaningful participation of young people in governance and decision-making processes, he said.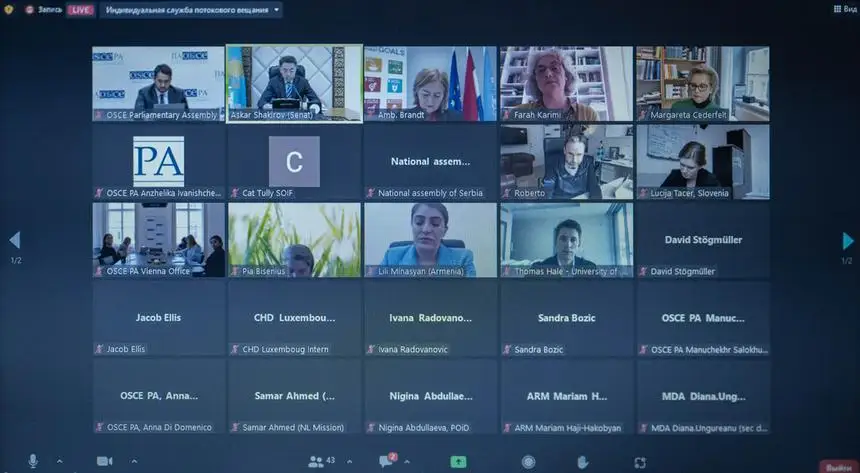 «With the right skills and opportunities required to unveil their potential, young people can be the driving force of development and promotion of peace and security. Youth organizations need to be encouraged and empowered to participate in the implementation of the 2030 Agenda. They play an important role in the implementation, monitoring and review of the Agenda and in ensuring the accountability of the governments. Given the political commitment and adequate resources, young people have the potential to transform the world into a better place for all,» the Kazakh senator said.