15:35, 09 June 2023 | GMT +6
President Tokayev meets with EU Commissioner for Agriculture Janusz Wojciechowski
ASTANA. KAZINFORM – Kazakh Head of State Kassym-Jomart Tokayev held a meeting with EU Commissioner for Agriculture and Rural Development Janusz Wojciechowski, Kazinform cites Akorda.
Tokayev thanked Janusz Wojciechowski for the participation in the Astana International Forum as a speaker.
In his speech, the Kazakh President stressed the strategic nature of cooperation with the European Union – the major trade partner of Kazakhstan.
«Recently, the Central Asia – European Union meeting took place in Kyrgyzstan. The first CA-EU meeting was held in Astana. The high-level meeting needs to be maintained to demonstrate our commitment and aspiration for closer relations. 30 years since the establishment of diplomatic relations between Kazakhstan and the EU were marked early this year. I believe we have a great potential for the development of mutually beneficial cooperation,» said the Kazakh President.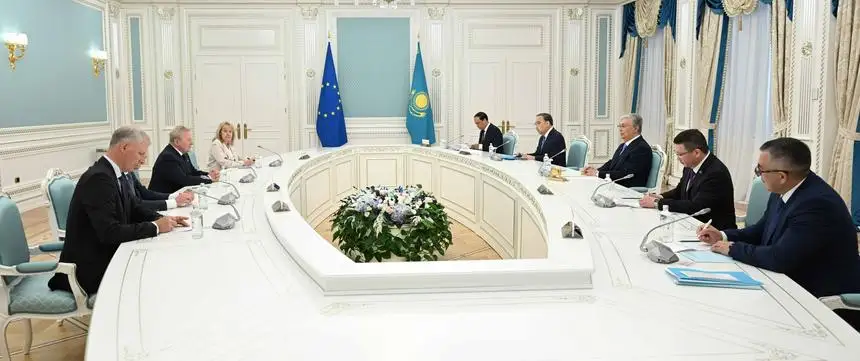 Tokayev informed the EU Commissioner about the reforms underway in Kazakhstan, as well as the transformations facilitating the development of democracy, protection of human rights, and rule of law.
He also noted Kazakhstan's potential to expand cooperation with the EU in the agricultural sector. According to the Kazakh Head of State, Kazakhstan is willing to increase the exports of grain and oil crops, high-quality organic food.
For his part, Janusz Wojciechowski expressed gratitude to the Kazakh President for the hospitality.
«Congratulations on the successful Astana International Forum. Your speech was very informative. I fully agree with you that we need to outline challenges and engage in dialogue to address them. Food security is among the serious challenges of global level,» said the EU Commissioner.