17:41, 07 June 2023 | GMT +6
President Tokayev, UNESCO Director-General Audrey Azoulay meet
ASTANA. KAZINFORM – President of Kazakhstan Kassym-Jomart Tokayev received UNESCO Director-General Audrey Azoulay to discuss the current issues of cooperation between Kazakhstan and UNESCO in the preservation of cultural and historic heritage, expansion of international contact in education and science, Kazinform cites Akorda.
Welcoming Audrey Azoulay, Tokayev commended her leadership as the UNESCO head and confirmed his support for the efforts to further strengthen the organization. The Kazakh President expressed gratitude to the UNESCO Director-General for paying a visit to the Mausoleum of Khoja Ahmed Yasawi.
«Your visit is of great importance in terms of further development of mutually beneficial cooperation between Kazakhstan and UNESCO. For us, UNESCO is a special organization, cooperation with which is of priority importance. We make every effort to further promote the cooperation,» said Tokayev.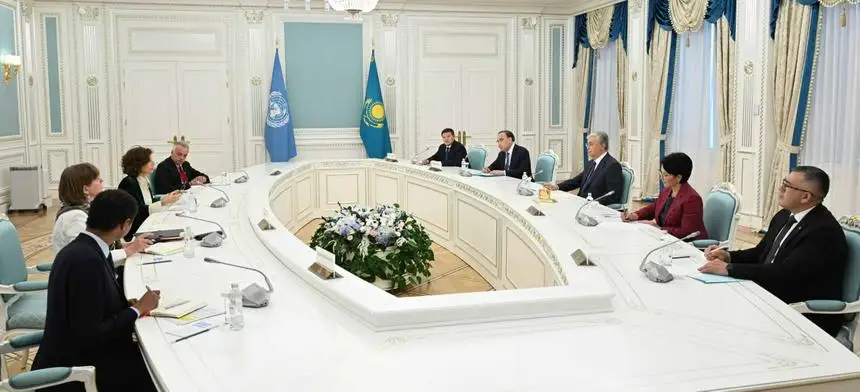 The Head of State confirmed Kazakhstan's commitment to carry out joint projects in the areas of climate, biodiversity, and water resources. The UNESCO Bureau in Almaty, which is due to be transformed into the Regional multisectoral office, was hailed as one of the examples of successful cooperation between Kazakhstan and the Organization.
In her turn, Audrey Azoulay thanked the Kazakh Head of State for the hospitality on Kazakh land. She shared her impressions after the visit to the Khoja Ahmed Yasawi Mausoleum, which is included in the UNESCO world heritage list. The UNESCO Director-General commended the large-scale reforms, including in the context of strengthening the civil society, promotion of education and culture, under the leadership of Kassym-Jomart Tokayev.
«My visit to Kazakhstan coincided with a strategic period for your country. You're carrying out large-scale reforms. Your presidential mandate must play a key role in this regard,» said Audrey Azoulay.