20:35, 07 June 2023 | GMT +6
Tokayev holds meeting with Qatari delegation led by Amir Tamim bin Hamad Al Thani
ASTANA. KAZINFORM – Welcoming Qatari Amir Sheikh Tamim bin Hamad Al Thani, Kazakh leader Kassym-Jomart Tokayev expressed gratitude for participation in the work of the Astana International Forum, leading a delegation of government and business officials of Qatar, Kazinform cites Akorda.
The Kazakh President stressed that Qatar is an important and reliable partner of Kazakhstan in the Middle East, and expressed confidence that today's talks will give a new impetus to the further development of cooperation between the two countries.
«We're to mark 30 years since the establishment of diplomatic relations between our countries. Certainly, it is a major milestone. Over this period, we've established effective interstate cooperation and constructive political dialogue. Last year, you were in Astana for a state visit. Recently, the Kazakh Prime Minister paid a visit to Qatar. All of this serves as a strong indication of traditional friendship and strong partnership. You personally make a great contribution to the deepening of ties between the countries. I highly appreciate it and is ready to make every effort to further strengthen Kazakh-Qatari relations together with you. On our part, we're ready to provide all necessary support for Qatari investors,» said the Kazakh President.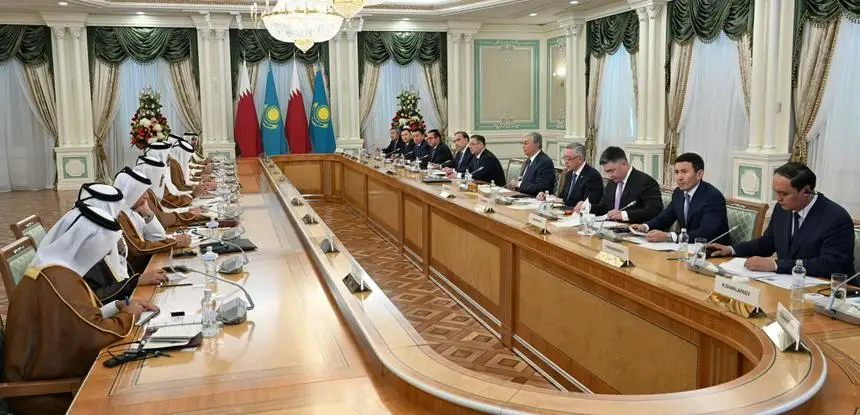 As the Kazakh Head of State said, Kazakhstan is willing to increase its exports of around 60 products to Qatar by $250 million. He stressed the importance of opening direct flights between the countries to intensify business contacts.
For his part, Qatari Amir Sheikh Tamim bin Hamad Al Thani thanked the Kazakh leader for hospitality and warm welcome.
«I with pressure accepted the invitation to take part in the Astana International Forum to visit Kazakhstan again. It is a great honor for me. I'm glad to see you again after my visit to Astana last October. It's a good opportunity to discuss the realization of agreements reached with brotherly Kazakhstan during last year's talks. A huge delegation including business officials arrived with me from Qatar. I believe that this will pave the way to successful cooperation between our countries. The bilateral cooperation develops dynamically in different areas. We intend to expand cooperation in all other areas,» said the Qatari Amir.
During the meeting, the Heads of State discussed prospects for realizing joint projects in oil and gas, mining and metallurgical, agricultural, financial, and medical spheres. Issues of mutually beneficial cooperation within international organizations were discussed as well.