14:47, 19 February 2020 | GMT +6
Unique golden jewelries unearthed at Kultobe ancient settlement
TURKESTAN. KAZINFORM Scientists defined periodization of the Kultobe ancient settlement based on archeological and historical-cultural research.
The Kultobe ancient settlement historical sites restoration project is the essential part of realization of the Turkestan region socioeconomic development complex plan 2024 adopted by the Government decree as of December 29, 2018. The ancient settlement stretches over 27 ha.
The three-year project will be implemented until 2021.
The first archeological research at the Kultobe ancient settlement was initiated by well-known Kazakh scientist Yerbolat Smagulov (1952-2019) in 2010. Later on archeologists succeeded in proving that Kultobe is the most ancient part of Yassy (Turkestan). Thanks to the discovered unique cruciform church-sanctuary and a number of architectural sites around dated back to the early times of A.D. the foundation of the city of Yassy city can be traced back to more than a half millennium earlier. It also let reconsider many aspects forming the historical and cultural landscape of the Great Steppe.
Archeological and historical-cultural research suggests the following periodization of the Kultobe ancient settlement:
- The early times (II-IV centuries ) – Sarmathian-Kangyi epoch - a religious and spiritual centre;
- The second period (VII–IX centuries) –Turkic epoch - a small fortress;
- The third period (X–XIII centuries) – the medieval period (golden age of urban culture and epoch of Khoja Ahmed Yasawi);
- The fourth period (XVI–XIX centuries) – the period of Kazakh khanate (an important political and economic centre, the crossroads of cultures, Turkestan is the capital of Kazakh khanate with appropriate urban infrastructure, decayed during Kazakh-Junggar wars).
The unique treasures of women's golden jewelries dated back to III-IV A.D., hundreds samples of ancient and medieval ceramics, ancient religious books (presumably Quran) and other important artifacts were unearthed there. All the findings will be studied thoroughly, classified and restored (if needed) and be kept at museums.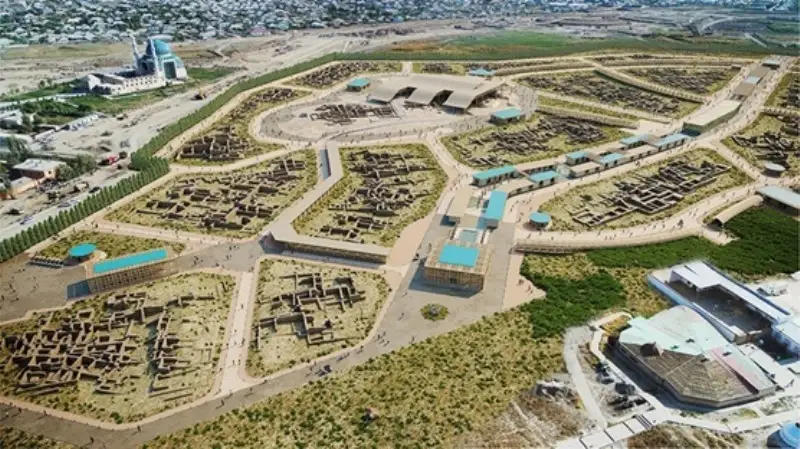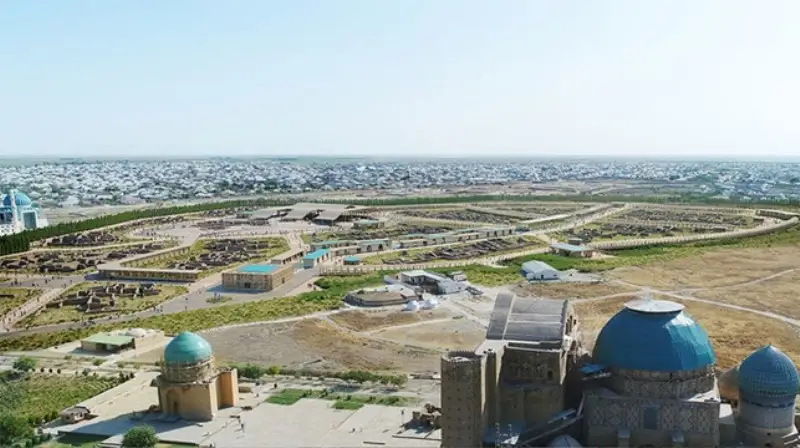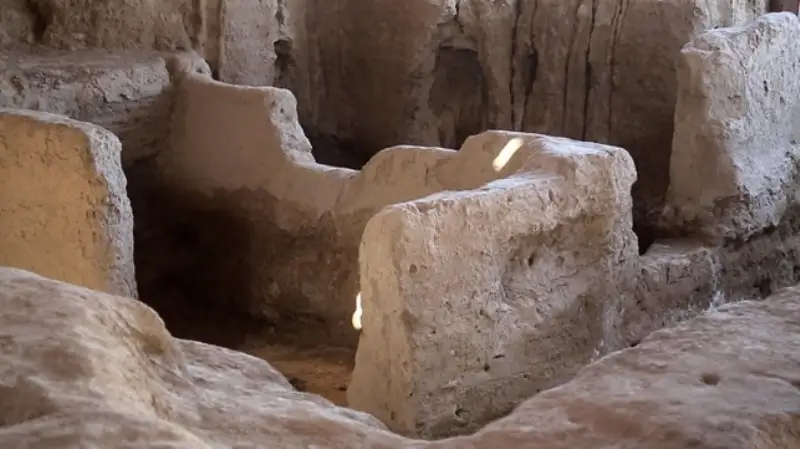 One the key results of the project is the opening of the modern archaeological park, the Kultobe ancient settlement, in the territory of Azret Sultan historical and cultural reserve museum.